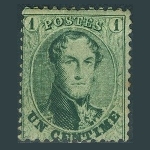 Stars received:
78
Lots sent:
16
Lots received:
10
Lots in progress:
1
Country:
Belgium
Member since:
05 September 2017
Last activity:
11 December 2017
Hello from Belgium

I collect all kind of stamps all over the word.
I´m happy every stamps I receive.
I also collect paper money.

Just have fun when you prepare the enveloppe to send the stamps.

Have a nice day and be happy.

Hughes.