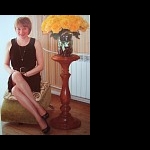 Lots sent:
33
Lots received:
33
Lots in progress:
1
Stars received:
4.55
Country:
Russia
Member since:
24 June 2017
Last activity:
16 August 2018
Collect stamps of USSR and Russia priority (1992 - 2001), Azores Islands, Bosnia and Herzegovina, Kosovo, Liechtenstein, Madeira,Alderney, Isle of Man, Aegean Islands, UN offices, Saarland, Fiume, Montenegro, Cyprus Greek and Turkish and other countries of the world.
Also collect the coupons(banknotes) and coins.

Коллекционирую марки России (приоритет 1992- 2001г), СССР, Азорские острова, Босния и Герцоговина, Косово, Лихтенштейн, Мадейра, Олдерни, остров Мэн, острова Эгейского моря, офисы ООН, Саар, Фиуме, Черногория, Кипр греческий и турецкий и др. стран мира.
Так же коллекционирую боны(банкноты) и монеты.