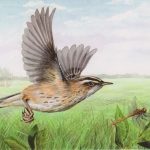 Lots sent:
22
Lots received:
20
Lots in progress:
1
Stars received:
5.00
Country:
Belarus
Languages:
English, Belarusian, Russian
Member since:
09 June 2021
Last activity:
22 June 2022
Hello!
I'm Anna.
I collect mostly birds stamps, but other themes are also welcome.
Some of my favorites: stamps of Nordic countries, Belarus, Ukraine, Japan. Themes: Europa (CEPT) especially 2019 year, trees, paintings, cartoons characters, gnomes and recent years stamps of your country.
I try to collect Europa 2019 stamps (National Birds), so I'm also interested in swap for this stamps. I can offer Belarusian Europa stamps or something from your interests. Feel free message me if you are interested.
Missing countries List
Thank you!