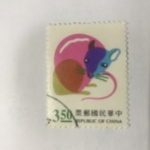 Lots sent:
56
Lots received:
53
Lots in progress:
1
Stars received:
4.98
Country:
Singapore
Languages:
English
Member since:
01 August 2020
Last activity:
12 May 2022
I am keen on used stamps from ex British Commonwealth countries with QE2/KG head, ex French territories and used stamps from Peoples Rep. China/Indonesia/Japan/Australasia

also Singapore (only after 2000)

otherwise your country .....

no "head" stamps.
I particularly like wild animals on stamps ...zodiac year animals e,g rat/oxen/tiger/rabbit/snake/sheep/goat/dragon/mythological dragon/monkey/pig/cockerel
also cartoons, comics and covid 19 related....



Most happy if you could send a coin or two of your country.....