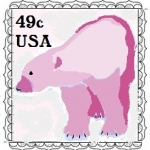 Lots sent:
59
Lots received:
49
Lots in progress:
5
Stars received:
4.92
Country:
United States of America
Languages:
English
Member since:
27 November 2016
Last activity:
18 June 2019
I collect topics of interest to me rather than by countries.

Polar regions/arctic/antarctic related -esp polar bears and other arctic animals (arctic hares and foxes, moose, sea mammals like seals, walrus, sea lions, elephant seals, some birds- penguins, terns, snowy owl) but anything polar region related... explorations/explorers, indigenous and native people and their culture, art, maps, AAT, BAT and so on also very welcome

Ancient Egypt and Ancient Civilizations - dig sites, artifacts, relics, ruins, anything archaeological or anthropological, wall paintings, museum pieces, architecture and structures like the pyramids, statues, Sphinx, tombs, rulers...and so on, anything historical

ice hockey

bees

berries

also Disney's Eeyore, The Great Mouse Detective, Beauty & the Beast, Cinderella, Wind in the Willow. Or Beatrix Potter, Kawaii, My Melody & friends, fairy tales, fables, teddy bears

general fauna or flora & fauna is fine to fill in the rest of the swap

Definitives, CTOs and cinderellas are fine IN MY THEMES, otherwise, no thank you on those

Thanks!