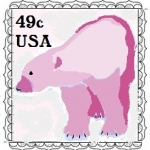 Lots sent:
45
Lots received:
35
Lots in progress:
5
Stars received:
4.91
Country:
United States of America
Languages:
English
Member since:
27 November 2016
Last activity:
22 March 2019
I am a thematic collector, rather than collecting by countries.

My Primary Collections:

Polar-Philately. Either polar region...polar bears (including cartoons and teddy bears) & other arctic and antarctic fauna including dogs used for sledding and arctic bears (not really interested in whales, insects, fish and sea life other than marine mammals), flowers, indigenous/native people & culture/arts, expeditions, explorers, exploration & research related, maps, Northern Lights, Southern Cross, ursa major & ursa minor constellations, scenery, snowflakes, glaciers, ice, climate change. Not really interested in buildings, ships other than those in explorations, big vehicles or minerals or flora if not flowering (if in doubt, go ahead an send what you have)

Ancient Egypt
archaeology, ruins, artifacts -any ancient civilization

People in folk and historical costumes or native dress

Fauna Collections- I love cute, interesting, unique, odd, funny and bizarre looking animals!

-Arctic and Antarctic animals...polar bears, arctic bear, marine mammals like seals, elephant seals, sea lions, walrus (but not whales), arctic hares, foxes, moose, reindeer, sled dogs, snowy owls, penguins, petrels, puffins, terns, blue footed boobys,

-woodland critters ...squirrels, bears, deer, foxes, skunks, raccoons, rabbits, badgers, beavers
chipmunks, groundhogs, hedgehogs, rabbits, opossums, porcupines. possum, prairie dogs, meerkats, minks, sables, chinchillas, mice and other rodents- hamsters, sugar gliders, guinea pigs, ferrets, mongooses, moles, voles, weasels etc.
-marsupials- koalas, kangaroos, wombats, wallabys
-pandas
-sloths, lemurs, aye ayes - cute and interesting tree dwellers
-platypus
-capybaras
-marine mammals - manatees, dugongs (sea cows), walrus, seals, sea lions, elephant seals, otters
(not whales please)

-Chinese Crested dogs

-bees

Other topical subjects I'm interested in...

berries

ice hockey (Go Blues!)

Disney/cartoons...esp. Eeyore, Beauty and the Beast, Cinderella, The Little Mermaid, The Great Mouse Detective, The Wind in the Willows, Cinderella,etc or any character in historical costume or setting and other cartoons like My Little Melody, teddy bears, Cubitis

mystery related - authors, characters, sleuths, detectives, books, films/movies

Kentucky state stamps (US)

I prefer fauna stamps if you don't have enough of the above for the swap.

I don't mind cinderellas, CTOs or definitives IN MY THEMES. Even those from Ajman, Staffa/Eynhallow/Bernera Islands/Nagaland and so on are welcome IN MY THEMES.

PLEASE NO definitives, CTOs or cinderellas that are NOT in my themes!

Thanks!