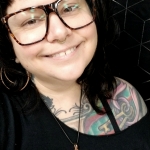 Lots sent:
42
Lots received:
42
Lots in progress:
2
Stars received:
4.90
Country:
United States of America
Languages:
English
Member since:
09 June 2020
Last activity:
22 June 2022
Hi there, I'm Wendi Kai. I'm a professional artist in Oregon USA. I'm new to stamp collecting, I started in 2020. I apologize that my outgoing swaps are limited but I really love collecting! I do it for enjoyment of the beauty of each stamp.
I'm especially looking for stamps from New Zealand, Denmark, Nederland, Ireland, Vietnam, Jamaica, Israel, Luxembourg, Finland,Belgium,Ukraine and Belarus.
I enjoy nature themes, including birds, plants,fruits,vegetables and mycology. Trains,planes,lighthouses and ships interest me as well.
I would love any air mail stamps or stickers. I collect outer space theme stamps too.
All stamps are welcome! I also collect random regional ephemera and postcards of all types. You can find me on Postcrossing.com too.