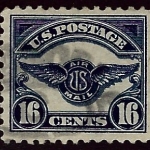 Lots sent:
4
Lots received:
4
Lots in progress:
0
Stars received:
5.00
Country:
United States of America
Languages:
English, German
Member since:
21 January 2022
Last activity:
20 June 2022
In my early 50's and have been collecting since I was a kid. Have been on and off again collector with stretches of inactivity in my 20's & 30's. Have been getting back into the hobby again the last few years.

Interested in all countries and categories. Especially like airmail, Christmas, and Abraham Lincoln stamps.