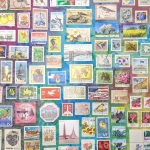 Lots sent:
13
Lots received:
10
Lots in progress:
0
Stars received:
4.92
Country:
United States of America
Languages:
English
Member since:
19 April 2021
Last activity:
13 July 2022
Hey there! I'm a 30 year old collector from South Louisiana, USA.
Some of my favorite types of stamps and themes include:
Tiny stamps
United Nations
Jersey
Greece
New Zealand
France
Africa
Germany
Japan
The Vatican
Pink
Waterfalls
Lighthouses
Boats\Ships
Fish
Nautical
Fruit/vegetables
Flowers
The Virgin Mary
Christian Scenes
Space
Hello Kitty
Miffy
Peanuts\Charlie Brown esp Snoopy
Winnie the Pooh
Stamps related to stamp collecting, letter writing, mail, postal work.

I'm very interested in connecting with people from around the globe, and I'm thrilled to create special packages and mail to send to others! Hope to hear from you soon :).