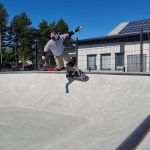 Lots sent:
32
Lots received:
26
Lots in progress:
5
Stars received:
5.00
Country:
Finland
Languages:
English, spanish, russian, german, swedish
Member since:
10 September 2021
Last activity:
20 June 2022
Hello, I am Johanna from Finland. You can send mint or used stamps. I love old stamps, but new are also good :)
Themes I like: military, history, ships, boats, planes, cars, trains...etc technology; flora and fauna, especially <3 horses <3; sports.

I like to collect small countries/islands.

I already own lots of stamps from:
- usa
- canada
- uk
- germany (deutschland, brd, ddr)
- france
- hungary
- bulgaria
- czekoslovakia
- Australia

I have lots of common (small) definitives around the world, that I have given away for artists/scrapbookers, I dont have use for them (kings/queens heads, number stamps, usa flag stamps etc...).

If you dont have these, you can send stamps from your own country for example.

I also do sports (skateboarding, snowboarding, kitesurfing), mountain biking, cross country skiing. I study russian and spanish languages. I do puzzles.