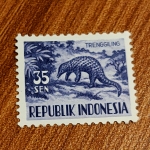 Lots sent:
4
Lots received:
2
Lots in progress:
4
Stars received:
5.00
Country:
Indonesia
Languages:
English, Indonesian, Mandarin, Japanese
Member since:
28 June 2020
Last activity:
09 September 2021
Hello, my name is Nathaniel. I live in Medan City, Indonesia.

I like all kinds of stamps, preferably not definitives, not CTOs, and not damaged.

I really like stamps from Nordic countries and Japan. If you have some in your collection please send them, any country is okay too :)

Please put multiple stamps on your cover, thank you very much!